KeyGhost Headlines


NEW! KeyGhost SX
New compact design. Huge 2,000,000 Keystroke capacity! Store and retrieve approx 12 months worth of typing. Patent Pending triple-speed download. Visit the website below for more information on this keylogger.
http://www.keyghost.com/sx
| | |
| --- | --- |
| | The KeyGhost Hardware Keylogger is a tiny plug-in device that records every keystroke typed on any PC computer. learn more >> |
TimeDate Stamping KeyGhost SX
Click the link below to visit the KeyGhost SX website:
http://www.KeyGhost.com/SX

KeyGhost External Stand-alone Models
KeyGhost Home Edition 128K Flash Memory - $89
KeyGhost Std 512K Flash Memory - $99
KeyGhost Pro 1 Megabyte Flash Memory - $149
KeyGhost Pro SE 2 Megabyte Flash Memory - $199
KeyGhost Security Keyboards (all brand name)
KeyGhost Hardware KeyLogger Keyboards - from $129
KeyGhost USB Keylogger
Compatible with both PC and Mac USB keyboards. Click to read more...
KeyGhost PCI / MPCI Keylogger
KeyGhost announces first PCI / MPCI hardware Keyloggers for laptop, notebook and desktop PCs. Click to read more...
Record and retrieve everything typed, including emails, chatroom activity, instant messages, website addresses, search engine searches and more with plug-in keylogger.
No software installation is necessary to record or retrieve keystrokes!
BEFORE

AFTER

For security reasons, the photo (above right) is only a representation of what the KeyGhost key logger (stand alone unit) looks like. The actual KeyGhost key logger is injection moulded to look exactly like an EMC Balun.

Easy to use. No new software to install or learn. (software free device)


Installs in seconds, just plug it in.


Can be unplugged and information retrieved on another PC.


Uses no system resources.


Excellent real-time backup device.

To install the external KeyGhost hardware keylogger you simply unplug the keyboard cable from the back of the PC, plug it into one end of the KeyGhost, then plug the other end back into the PC.
Why do you need a KeyGhost hardware keylogger?
KeyGhost hardware keyloggers protect computer resources and increase computer security.
Several areas have been identified where a hardware keylogger, like the KeyGhost, is in great demand:

As a key logger tool for computer fraud investigations.


As a monitoring device for detecting unauthorised access.


As a deterrent, to prevent unacceptable use of company resources.


As a back up tool which creates a log of all keystrokes typed on a keyboard.
But I use a software 'key logger' program...
Article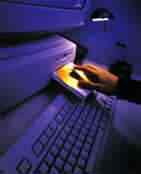 Over $120 billion was lost in the USA due to employee fraud last year. And this figure is growing.
As a user's technical knowledge increases and weaknesses in software become well known, software keylogger (key loggers and keystroke loggers) become less effective. If the user is capable of disabling or bypassing the security system (or manipulating the logs), then there is no record of the break-in or what has been done. Investigations of the computer break-in become very difficult, if not impossible. In addition, there is the added risk of the log file being stolen and its sensitive contents read.
Advantages of KeyGhost Keylogger:

Easy to install in a few seconds! Simply plug it in. Installation pictures.

It records every keystroke, even those typed in the critical period between computer switch on and the operating system being loaded.

KeyGhost even captures and displays key combinations such as Ctrl+C, Alt+F and Ctrl+Alt+Delete, making it easy to understand exactly what was typed.

Keylogger works with any PC operating system, and stores a continuous log even across multiple operating systems on one computer.

No software installation is necessary to record or retrieve keystrokes. KeyGhost is software free! How?

It has a capacity of up to 2,000,000 keystrokes stored with STRONG 128-bit encryption. (This is approximately 300,000 words, or 1 years worth of typing).

Keylogger features looping memory so you will never miss the most recent keystrokes.

Impossible to detect and/or disable by using software scanners.

It is a very user-friendly keylogger which can be easily used even by those with little computer knowledge. It has a very simple operation for such a powerful tool. Simply plug the key logger device into the keyboard cable.

The log in the KeyGhost cannot be tampered with. It is an authentic record of what was typed, and therefore, it may be used as strong evidence in a court of law.

KeyGhost Hardware Keyloggers have been extensively tested for over 5 years on almost every brand of PC, and have received many positive independent reviews. You can be sure our Keyloggers work as advertised.
The KeyGhost™ Hardware Keylogger Specifications
Model

Capacity

Encryption

Price
($USD)
External KeyGhosts (Stand-alone Type) keylogger
External KeyGhost Home Edition
128,000 Keystrokes

None

$ 89
External KeyGhost Standard
500,000+ Keystrokes

Basic

$ 99
External KeyGhost Professional
1,000,000+ Keystrokes

128 bit

$ 149
External KeyGhost Professional SE
2,000,000+ Keystrokes

128 bit

$ 199
Security Keyboards (All brand name with KeyGhost hidden inside)
KeyGhost Std
Security Keyboard
500,000+ Keystrokes

Basic

$ 129
KeyGhost Professional
Security Keyboard
1,000,000+ Keystrokes

128 bit

$ 219
KeyGhost Professional SE
Security Keyboard
2,000,000+ Keystrokes

128 bit

$ 299
The KeyGhost™ Professional SE keylogger at a glance?
PCinsight Review


'Our KeyGhost II Pro scores 9/10 rating in PCinsight review. more reviews>>

Easy to install in a few seconds! Simply plug it in. Installation pictures.


Powered from the computer. It doesn't need batteries.


Can be installed even when the target computer is logged out, has a password, is locked or switched off.


The keylogger device can be unplugged and the keystrokes retrieved on another computer.


Over 2,000,000 keystrokes (looping memory) can be stored with strong 128-bit encryption in non-volatile flash memory (same as in smart cards) that doesn't need batteries to retain storage.


Works on any desktop PC & all PC operating systems, including Windows 3.1, 95, 98, ME, NT, 2000, XP, Linux, OS/2, DOS, Sun Solaris and BeOS.*


No software installation is needed at all to record or retrieve keystrokes. Recorded keystrokes can be played back into any text editor using our 'keystroke ghosting' technique.


Plugs into computers with a small PS/2 keyboard plug or a large DIN plug. Adapters are required to convert it to work with a large DIN plug.



Unlike software (and free) keystroke recorders (key loggers), KeyGhost keylogger records every keystroke, even those used to modify the BIOS before bootup.


Impossible to detect or disable using software.


Immune to magnetic fields, and is shock resistant.


What the reviewers are saying about the KeyGhost Keylogger
UniqueHardware - KeyGhost Pro SE, 6th October 2002



'What is the best keylogger to buy?...In the end, what this all comes down to is how much space can each of these loggers hold. The maximum of the KeyGhost Pro SE is 2,000,000! With the KeyGhost Pro SE there is 128-bit encryption to prevent unauthorized access of your keystroke logs.'
.- Rating: 9/10

Read more reviews >>
Acid Hardware - KeyGhost Review, 22 Feb, 2001



'"Interface Security have a very well made quality product that fits demand perfectly. It works as promised and doesn't fall short in any aspects. In terms of compatibility, efficiency, practicality and ease of use the KeyGhost excels in every department. - Rating: 9.5/10"

Read the independent review >>

Geek Vortex Review - KeyGhost Hardware Key logger



'It has a very easy installation, a very easy operation, and is extremely innovative as an idea. To sum the KeyGhost in one sentence, "A Masterpiece of Engineering". Nothing more nothing less. - Rating: 10/10' - DataOrb

Read the independent review >>
More KeyGhost Keylogger reviews >>


What the customers are saying about the KeyGhost Keylogger
"I bought KeyGhost because I can't afford to lose a single thing I type. KeyGhost just reduced my stress almost 100%! If you own Windows, you have to have KeyGhost :-) Reichart..."
Baron R. K. Von Wolfsheild (has appeared in Time magazine, 15 years experience in games design, responsible for such classic games as Galactic Invasion and Firepower - Ed)
http://www.prolific.com/

* (All prices are in USD and exclude shipping)
** (For MacOS & USB keyboards please choose KeyGhost USB Keylogger).
System Requirements: PC compatible desktop computer with PS/2 (or Large Din) keyboard port.
KeyGhost is a registered trademark of KeyGhost Ltd. KeyGhost Hardware Keylogger records all keystrokes typed on any PC.