GeekVortex Review
3rd December 2000


'It has a very easy installation, a very easy operation, and is extremely innovative as an idea. To sum the KeyGhost in one sentence, "A Masterpiece of Engineering". Nothing more nothing less.' - DataOrb
> Read the independent review
KeyGhost PCI / MPCI (Mini-PCI) Hardware Keylogger
KeyGhost announces first PCI / MPCI (Mini-PCI) hardware Keyloggers for laptop, notebook and desktop PCs.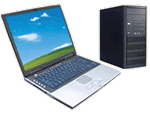 Units are in pre-production testing and will be available to beta testers soon.
Please click here to register your interest
What is the KeyGhost PCI / MPCI / Mini-PCI Hardware Keylogger?
The KeyGhost PCI / MPCI / Mini-PCI Pro is a special hardware keylogger that works without any software on the host computer, and records keystrokes directly off a motherboard PCI or Mini-PCI bus on any desktop, notebook or laptop PC.

KeyGhost PCI and MPCI (Mini-PCI) Keylogger records ALL keyboard activity, including BIOS, from any source (USB, PS/2, laptop and notebook keyboards) and works on any operating system.

Features:
- Works on any modern laptop, notebook or Desktop computer.
- Just plug-in to your PCI / MPCI / Mini-PCI slot on your PC.
- 2,000,000 keystroke memory capacity (approx 1 year worth of typing).
- Time and Date stamping on stored keystrokes.
- Quick and easy to use. Installs in seconds.
- Impossible to detect with software scanners.
- All stored keystrokes are securely encrypted with 128-bit encryption.

Please contact us if you have any questions or comments regarding hardware-based keystroke recording tools for notebooks, laptops and desktops.

helpdesk@keyghost.com
Kind Regards,
The KeyGhost Team