Security Keyboard™ to monitor keystrokes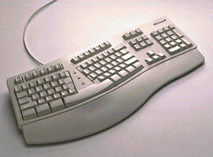 The Security Keyboard™ keeps a record of all keystrokes typed on it. The recording process is totally transparent to the end user, it looks and behaves exactly like a normal keyboard in every way. The keystrokes can only be retrieved by the administrator.

Click here to read an independent review of our Security Keyboard™ featured in Australian IT & Dan's Data.
Software loggers are easy to bypass. Simply delete the appropriate ".vxd" file and they are rendered useless. Booting from a floppy disc bypasses a software keylogger completely .
Security Keyboard™ with a KeyGhost Pro SE, or boosted capacity Pro or Std hidden inside, adds an extra layer of protection against theft or fraud.
Unlike software keystroke recorders, this picks up every keystroke. Booting from a floppy disc will not bypass the security keyboard


No software installation is needed at all! Just plug the keyboard in. Even retrieving the keystrokes requires no software


Records up to 2,000,000 keystrokes (depending on model selected)


Works on any desktop PC & all PC operating systems, including Windows 3.1, 95, 98, ME, NT, 2000, XP, Linux, OS/2, DOS, Sun Solaris and BeOS. (MacOS & USB keyboards not currently supported).


Even if the Security Keyboard™ is unplugged the keystrokes are still safe. The keystrokes are stored in non-volatile flash memory that doesn't need batteries



Article

Over $120 billion was lost in the USA due to employee fraud last year. And this figure is growing.

The Security Keyboard™ can be unplugged and the keystrokes retrieved on another computer


Plugs into computers with a small PS/2 keyboard plug or a large DIN plug. This covers every PC available today. (Please note: PS/2 -to- Large Dinn adaptor will be required to convert KeyGhost to plug into the older style large DIN socket).

Unlike some software keystroke recorders, this picks up every keystroke, even those used to modify the BIOS before bootup.


KeyGhost Security Keyboard™ is powered from the computer. It doesn't need batteries.


KeyGhost is hidden inside the keyboard, it is completely hidden from the user.

We have served many satisfied customers. We are committed to giving you an excellent deal, with a full guarantee and good after sales customer support.

Purchase of the (Optional) KeyGhost Turbo Download Adaptor is highly recomended. This adaptor allows you to retrieve all the stored keystrokes off a KeyGhost II Pro or Pro SE in several minutes via a high-speed link. Simply attaching the KeyGhost to the adaptor, and running our KeyGhost Serial download software retrieves the log. This unit is highly recommended for users of the KeyGhost Pro & Pro SE.

The Security Keyboard™ comes with a KeyGhost™ built into it. It is available in many different models and styles. You can even send your existing keyboard to us for conversion. It operates just like an ordinary keyboard, but stores up to 2,000,000 keystrokes in permanent memory. This is enough to keep the previous 8-12 months worth of typing.


Check out the Independent Review featured in Australian IT & Dan's Data magazine.

Check out the KeyGhost Pro SE, KeyGhost Hardware Keylogger Feature Comparison Sheet, Interactive Tutorial, FAQ and Pricing

Independent reviews > here <

Customer testimonials > here <

Who is using the KeyGhost™? > click here to find out <

Legal
Tips for creating a keystroke monitoring notification banner. > here <

What are the advantages of using a KeyGhost over software keyloggers? > read more <