INDEPENDENT CUSTOMER REVIEW
KeyGhost Pro SE
Rating: 5/5
Richard Smith from Australia Dec 3, 2003
THE GOOD:
This is an incredible piece of hardware - it works perfectly on every PC box I have tried it on !!
SUMMARY:
Great original piece of kit!
A must have for all who own a desktop, I have used it to retrieve everything from my hotmails to my posts. KeyGhost has made an even smaller one now apparently, I believe its called the SX.
This kit is a scary piece of work!
No software installation is necessary to record or retrieve keystrokes!
BEFORE

AFTER

For security reasons, the photo (above right) is only a representation of what the KeyGhost keylogger (stand alone unit) looks like. The actual KeyGhost keylogger is injection moulded to look exactly like an EMC Balun.
Article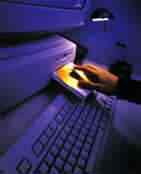 Over $120 billion was lost in the USA due to employee fraud last year. And this figure is growing.
Description of KeyGhost™ Pro SE (Monitoring of Keystrokes in Hardware).

The KeyGhost™ Professional Special Edition records all keystrokes typed on a PC. Simply clip to keyboard cable.
Install KeyGhost Pro SE™ to the target computer even when it is logged out, has password, is locked or switched off.

Installs in a few seconds! Simply plug in. Installation pictures.
Take an interactive slideshow tour to see how to use the KeyGhost hardware-based keystroke monitoring tool.

Over 2,000,000 keystrokes can be stored with 128-bit encryption in non-volatile flash memory that doesn't need batteries.


Works on any desktop PC & all PC operating systems, including Windows 3.1, 95, 98, ME, NT, 2000, XP, Linux, OS/2, DOS, Sun Solaris and BeOS. (MacOS & USB keyboards not currently supported).


No software installation is needed at all! The keystrokes can be retrieving without any software being installed on the PC. Recorded keystrokes are typed back into any text editor using our 'keystroke ghosting' technique.



We have served many satisfied customers. We are committed to giving you an excellent deal, with a full guarantee and good after sales customer support.

Unlike some software keystroke monitoring recorders, this picks up every keystroke, even those used to modify the BIOS before bootup.


KeyGhost Pro SE™ is powered from the computer. It doesn't need batteries.


Plugs into computers with a small PS/2 keyboard plug or a large DIN plug. (Please note: PS/2 -to- Large Dinn adaptors are required to convert KeyGhost to plug into the older style large DIN socket).

Purchase of the (Optional) KeyGhost Turbo Download Adaptor is highly recommended. This adaptor allows you to retrieve all the stored keystrokes off a KeyGhost II Pro or Pro SE in several minutes via a high-speed link. Simply attaching the KeyGhost to the adaptor, and running our KeyGhost Serial download software retrieves the log. This unit is highly recommended for users of the KeyGhost Pro & Pro SE.
The KeyGhost™ Pro SE is the fully featured version of the KeyGhost™. Unlike the KeyGhost™ Home Edition, it has over fifteen times the memory (2,000,000 keystrokes, stores average of 8-12 months worth of typing), can record function & arrow keys, combination keys, has 128-bit encryption on stored keystrokes and has a faster download speed. KeyGhost makes keystroke monitoring quick and easy, and eliminates problems associated with software keystroke monitoring based solutions.

Check out the Independent Review featured in Australian IT & Dan's Data magazine.
Check out the KeyGhost Standard, Security Keyboard, Interactive Tutorial, KeyGhost Hardware Key Logger Feature Comparison Sheet, FAQ and Pricing
Independent reviews > here <
Customer testimonials > here <
Who is using the KeyGhost™? > click here to find out <
Legal
Tips for creating a keystroke monitoring notification banner. > here <
What are the advantages of using a KeyGhost over software keystroke montioring? > go read more <